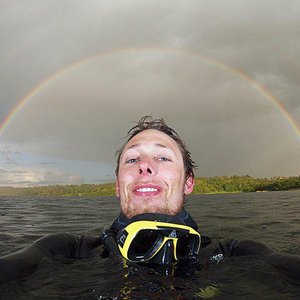 Posters
2018
Pilot Project for Mapping Marine Nature Types within the NiN Framework, Coastal Norway
(Ja)
2017
Fish Assemblages in Coastal Vegetation
(Ja)
2013
Benthic communities at the opera in Bjørvika
(Ja)
2004
Intense feeding of Calanus hyperboreus on Arctic Autumn Bloom Propagated by a Record Minimum Sea Ice Extent in 2004
(Ja)
Academic articles
2020
Ecosystem-level effects of large-scale disturbance in kelp forests
Marine Ecology Progress Series 656 p. 163-180
2020
Marine heatwaves and the collaps of marginal North Atlantic kelp forests
Scientific Reports 10
2018
Latitude, temperature, and habitat complexity predict predation pressure in eelgrass beds across the Northern Hemisphere
Ecology 99 p. 29-35
2016
Eelgrass (Zostera marina) food web structure in different environmental settings
PLOS ONE 11 (Ja)
2016
Small-scale removal of seagrass (Zostera marina L.): effects on the infaunal community
Marine Biology Research 12 (Ja) p. 993-1002
2015
Biodiversity mediates top-down control in eelgrass ecosystems: a global comparative-experimental approach
Ecology Letters 18 (Ja) p. 696-705
2012
Meristoderes gen. nov., a new kinorhynch genus, with the description of two new species and their implications for echinoderid phylogeny (Kinorhyncha: Cyclorhagida, Echinoderidae)
Zoologischer Anzeiger 251 (Ja) p. 161-179
2010
Wollunquaderes majkenae gen. et sp. nov. - a new cyclorhagid kinorhynch genus and species from the Coral Sea, Australia
Marine Biodiversity 40 (Ja) p. 261-275
2010
Two new species of Echinoderes (Kinorhyncha: Cyclorhagida) from the Solomon Islands
Meiofauna Marina 18 (Ja) p. 67-96
2008
Vertical migration in high Arctic waters during autumn 2004
Deep-Sea Research Part II: Topical Studies in Oceanography 55 (Ja) p. 2275-2284
2007
Sympagic amphipods in the Arctic pack ice: redescriptions of Eusirus holmii Hansen, 1887 and Pleusymtes karstensi (Barnard, 1959)
Polar Biology 30 (Ja) p. 1013-1025
2005
Myxine jespersenae, A New Species of Hagfish (Myxiniformes: Myxinidae) from the North Atlantic Ocean
Copeia (American Society of Ichthyologists and Herpetologists) 2005(2) (Ja) p. 374-385
Informasjonsmateriale
2019
Policy brief on Nordic Blue Carbon
Reports and papers
2021
Blue Carbon – climate adaptation, CO2 uptake and sequestration of carbon in Nordic blue forests. Results from the Nordic Blue Carbon Project.
2021
Krafttak for kysttorsken - Kunnskap for stedstilpasset gjenoppbygging av bestander, naturtyper og økosystem i Færder- og Ytre Hvaler nasjonalparker
2020
ØKOKYST – delprogram Klima. Årsrapport 2019
2020
Biomassemodell for stortare - Ressursmodell for fremtidens forvaltning
2020
Nasjonal kartlegging – kyst 2019. Ny revisjon av kriterier for verdisetting av marine naturtyper og nøkkelområder for arter
2019
ØKOKYST - delprogram Klima. Årsrapport 2018.
2019
Feltveileder for Kartlegging av marin naturvariasjon etter NiN (2.2.0).
(Ja)
2018
Pilotprosjekt - Kartlegging av marin natur i Møre og Romsdal: Årsrapport 2017
(Ja)
2017
Disturbance and trophic interactions in Scandinavian eelgrass ecosystems
2008
The Rhodoliths of Disko Fjord, Greenland: First visual record of the Litothamnion glaciale/tophiforme (Corallinales, Rhodophyta) aggregation in Disko Fjord, 69°N, Greenland
In: Halberg KA (ed) Arctic Biology Field Course, Qeqertarsuaq, 2006. Institute of Biology, University of Copenhagen. (Ja)
2005
Biological state of arctic lakes and ponds on Disko Island, Greenland
Arctic fieldcourse 2004. Institute of Biology, University of Copenhagen. ISBN 87-987317-2-6 (Ja)
New findings of diel vertical migration in high Arctic ecosystems
In: Berge J (ed) AB320-2004. UNIS Publication Series ISSN 1503-4410. (Ja)
Academic lectures
2019
Phasing in use of the "Nature in Norway" (NiN) system for classification and description of nature in the marine environment – experiences, challenges and international relevance.
(Ja)