Thassya Christina dos Santos Schmidt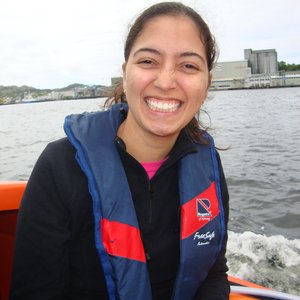 Academic articles
2021
Adult body growth and reproductive investment vary markedly within and across Atlantic and Pacific herring: a meta-analysis and review of 26 stocks
Review in Fish Biology and Fisheries 31 (Ja) p. 685-708
2021
Ovarian dynamics and fecundity regulation in blueback herring, Alosa aestivalis, from the Connecticut River, US
Journal of Applied Ichthyology 37 (Ja) p. 64-72
2021
Eight decades of adaptive changes in herring reproductive investment: the joint effect of environment and exploitation.
ICES Journal of Marine Science. 78 (Ja) p. 631-639
2020
Development of a new 'ultrametric' method for assessing spawning in female teleost serial spawners
Scientific reports 10 p. 9677
2020
Environmental stressors may cause unpredicted, notably lagged life-history responses in adults of the planktivorous Atlantic herring
Progress in Oceanography 181 (Ja)
2019
Temperature and age effects on latitudinal growth dynamics of the commercially valuable gadoid Northeast Arctic saithe (Pollachius virens)
Fisheries Research 213 p. 94-104
2018
Are life histories of Norwegian fjord herring populations of Pacific ancestry similar to those of Atlantic or Pacific herring?
Journal of Marine Systems 180 p. 237 - 245
2017
Ichthyofauna as environmental quality indicator of Bertioga Channel, São Paulo (Brazil).
Brazilian Journal of Oceanography 65 p. 29-43
2017
Oogenesis and reproductive investment of Atlantic herring are functions of not only present but long-ago environmental influences as well
PNAS 114 (10) p. 2634-2639
2014
Length-Weight relationship of 73 fish species caught in the southeastern inner continental shelf region of Brazil
Latin American Journal of Aquatic Research 42 (Ja) p. 127-136
2012
Pattern of distribution and environmental influences on the Sciaenidae community of the Southeastern Brazilian coast
Brazilian Journal of Oceanography 60 p. 233-243
2011
Ichthyofauna in the Mataripe estuarine area, Todos os Santos Bay, Bahia, Brazil
Brazilian Journal of Oceanography 59 (Ja) p. 75-95
2008
Taxocenose of marine catfish (Siluriformes, Ariidae) of estuarine area of São Vicente, SP, Brazil
Biota Neotropica 8 (Ja) p. 1-10