Topic: The ocean, coast and fjords
Small fishing boat by the coast.

Photo: Jan Helge Fosså

Steinstrand in Moutmarka, Færder National park.

Photo: Monica Sæle, HI

Where Lysefjorden and Høgsfjorden meet.

Photo: Erlend A. Lorentzen, HI
Published: 28.01.2019 Updated: 29.05.2019
There are many different ecosystems in our seas and coastal areas. An ecosystem is all of the animals and other organisms naturally confined to a limited area – and the interactions between them and with their physical environment.
Some species provide food for other species, while others compete with each other. The food chain represents "who eats whom".
The basis for life: Photosynthesis
In the same way as on land, marine life is based on the photosynthesis performed by plants, algae and plankton. These organisms use the energy in light to transform water, carbon dioxide and inorganic nutrients into energy and oxygen. In other words, the amount of light affects how much underwater life there is.
In the ocean, photosynthesis is mainly performed by phytoplankton. All other organisms are dependent on them for their survival, growth and reproduction.
Phytoplankton are grazed on by zooplankton, such as copepods and krill, which are in turn eaten by a range of animals including fish. Higher up the food chain we find the bigger predators such as cod, seals, seabirds and whales. Polar bears, orcas and humans look proudly down from the very top of the food chain.
Water conditions affect marine life
Marine life is constantly changing. There are a number of factors that play into this. The amount of light and the physical and chemical properties of the water have a big impact on marine ecosystems.
The physical properties include the water temperature, salinity and local currents. These factors affect the ecosystem "from the bottom up": at the very bottom of the food chain, the physical conditions determine how much phytoplankton can grow.
For fish and sea mammals, the physical factors have both direct and indirect impacts. A temperature change, for instance, may directly alter the metabolism of a fish or reduce the amount of phytoplankton and consequently the amount of food available. Both of these things may affect the growth of the fish.
The water's chemical properties include its nutrient levels and pH value. The inorganic nutrients in the water are the fertilizers that phytoplankton need in order to grow. Many of the chemical components in the ocean are natural, but some of them are the result of pollution.
The role of climate in ecosystems
The climate also affects ecosystems. Climate is often defined as the average weather over a period of 30 years: precipitation levels, air temperature and wind conditions. In the ocean, we measure the average "weather" by looking at the water temperature, ocean currents, sea level and salinity.
Natural fluctuations mean that the climate varies a lot from year to year. Equally, the climate can stabilise for extended warm and cold periods lasting several years, or even decades. On top of these natural fluctuations comes the climate change caused by humans. This is due to rising greenhouse gas emissions into the atmosphere. Both natural fluctuations and changes caused by humans affect ecosystems.
Lofoten og Vesteralen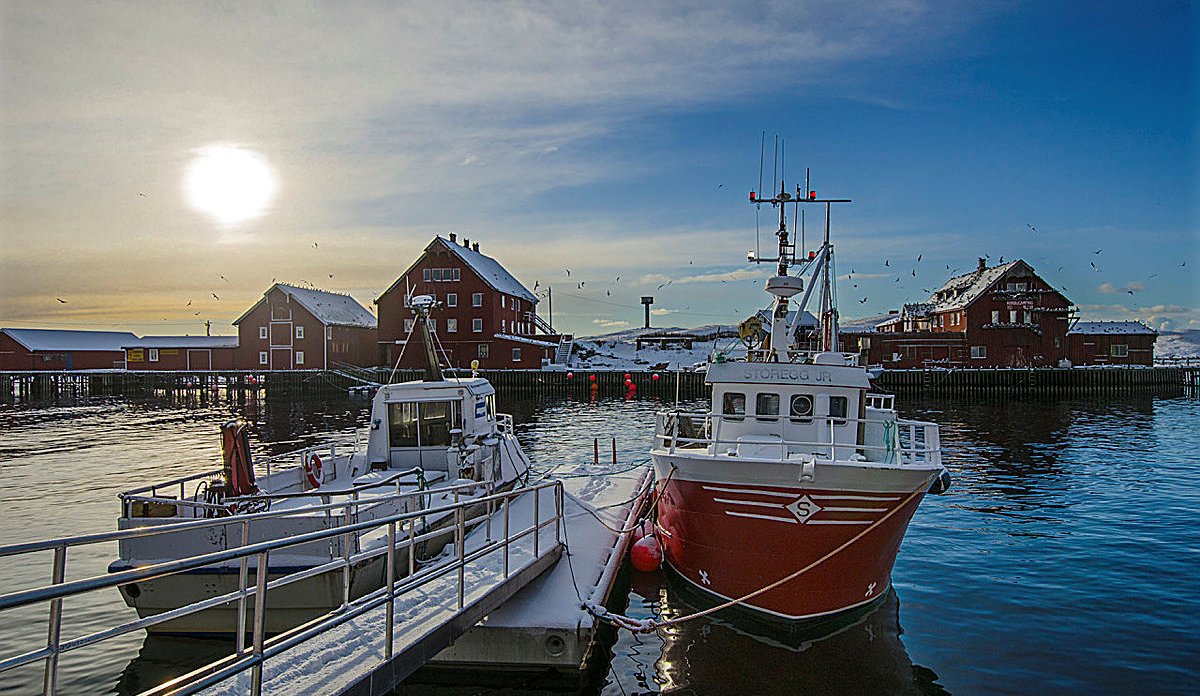 Published: 27.03.2019 Updated: 29.05.2019
Disse faktorene gjør at Lofoten og Vesterålen er et område særs rikt på mangfoldig liv i havet: det vokser og gror i alle ledd i næringskjeden. Her er et stort artsmangfold.

Vannet fra havdypet er næringsrikt, men så lenge havstrømmene går dypt, slipper lite lys til, og dermed blir den biologiske produksjonen liten. Men når dette vannet blir presset opp utenfor Lofoten og Vesterålen, med sol døgnet rundt, starter en enorm biologisk produksjon: Planteplanktonet blomstrer opp og gir dyreplanktonet mye å spise på. Dyreplanktonet er igjen viktig mat for fisken – som gir de på toppen av næringskjeden middag; sel, hval og oss mennesker.

I skjæringspunktet mellom Norskehavet i sør og Barentshavet i nord ligger forholdene godt til rette for at fiskene skal føre arten videre. Lofoten og Vesterålen er området våre viktigste fiskebestander vandrer til for å gyte, som skreien (nordøstarktisk torsk). Skreien er grunnlaget for det tradisjonsrike lofotfisket.

Etter gytingen driver fiskeegg og -larver med havstrømmene opp til Barentshavet, der de vokser opp.

Det som skjer i havområdet rundt Lofoten og Vesterålen har igjen store konsekvenser for økosystemene i Norskehavet og Barentshavet.