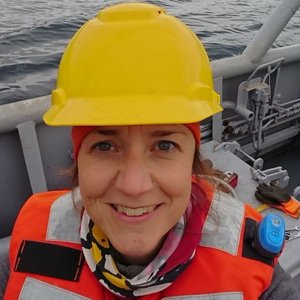 Fjords and coasts: the general dynamics in northern Norwegian fjords, with focus on Altafjorden and Kaldfjorden
Arctic Ocean: shelf slope processes north of Svalbard (Yermak Plateau, Hinlopen Strait, ...)
Anna Nikolopoulos, Ph.D.
Date of Birth: 8 January 1974 - Nationality: Swedish
Residence: Tromsø - Civil Status: Married, two children (b 2008, 2011)
Email: anna.nikolopoulos@hi.no
Phone (mobile): +47 9188 7495
Mail address: P.O. Box 6606 Langnes, NO-9296 Tromsø, Norway
Education:
| | | |
| --- | --- | --- |
| Ph.D. in Physical Oceanography/ Atmospheric Sciences | 2003 | Stockholm University. Thesis: "Theoretical and Observational Aspects on Deep-Water Overflows – with emphasis on the Denmark Strait overflow" |
| M.Sc. with a major in Atmospheric Sciences | 1998 | Stockholm University. Thesis: "Undersökning av kopplingen mellan altimetriska satellitdata och direkta strömmätningar – en metodstudie" |
Affiliations:
| | | |
| --- | --- | --- |
| Institute of Marine Research | Since Jan 2018 | Postdoctoral researcher, Oceanography and Climate |
| AquaBiota Water Research, Stockholm, Sweden | 2006-2018 | Research Scientist, Physical Oceanography |
| Woods Hole Oceanographic Institution, USA | 2004-2006 | Swedish Research Council Postdoctoral Fellow at the Department of Physical Oceanography (24 months) |
| Swedish Meteorological and Hydrological Institution, SMHI | 2003 | Project assistant at the Oceanographic Research Department of SMHI (3 months) |
| Stockholm University, Sweden | 1997-2003 | Ph.D. student at the Dept. of Meteorology (MISU) |
Peer-reviewed articles:
Dybwad, C., Assmy, P., Olsen, L.M., Peeken, I., Nikolopoulos, A., Krumpen, T., Randelhoff, A., Tatarek, A., Wiktor, J.M., Reigstad, M., 2021. Carbon Export in the Seasonal Sea Ice Zone North of Svalbard From Winter to Late Summer. Front. Mar. Sci. 7. https://doi.org/10.3389/fmars.2020.525800
Menze, S., Ingvaldsen, R.B., Nikolopoulos, A., Hattermann, T., Albretsen, J., Gjøsæter, H., 2020. Productive detours – Atlantic water inflow and acoustic backscatter in the major troughs along the Svalbard shelf. Progress in Oceanography 188, 102447. https://doi.org/10.1016/j.pocean.2020.102447
Wollenburg J.E., Katlein C., Nehrke G., Nöthig E-M., Matthiessen J., Wolf-Gladrow D.A., Nikolopoulos A., Gazquez-Sanchez F., Rossmann L., Assmy P., Babin M., Bruyant F., Beaulieu M., Dybwad C., Peeken I., 2018: Ballasting by cryogranic gypsum enhances carbon export in a Phaeocystis under-ice bloom, Scientific Reports, Vol 8: 7703, doi: 10.1038/s41598-018-26016-0.
Werner K., Fritz M., Morata N., Keil K., Pavlov A., Peeken I., Nikolopoulos A., Findlay H., Kędra M., Majaneva S., Rennerk A., Hendricks S., Jacquot M., Nicolaus M., O'Regan M., Sampei M., Wegner C., 2016: Arctic in Rapid Transition: Priorities for the Future of Marine and Coastal Research in the Arctic, Pol. Sci., Vol 10, Issue 3, pp364-373.
Sundblad G., Bekkby T., Isaeus M., Nikolopoulos A., Norderhaug K.M., Rinde E., 2014: Comparing the ecological relevance of four wave exposure models. Estuarine, Coastal and Shelf Science, DOI: 10.1016/j.ecss.2014.01.008.
Nikolopoulos A., Pickart R.S., Fratantoni P.S., Shimada K., Torres D.J. and Jones E.P., 2009: The western Arctic boundary current at 152°W: Structure, variability, and transport. Deep Sea Research II, Vol 56, Issue 17, pp 1164-1181, doi: 10.1016/j.dsr2.2008.10.014.
Nikolopoulos A., Borenäs K., Hietala R., Lundberg P., 2003: Hydraulic estimates of Denmark Strait overflow, J. Geophys. Res., 108(C3), 3095, doi:10,1029/2001JC001283.
Björk G., Söderkvist J., Winsor P., Nikolopoulos A., Steele M., 2002: Partial Return of the Cold halocline layer to the Amundsen Basin of the Arctic Ocean: Implications for the sea ice mass balance, Geophys. Res. Lett., 29(11), 1513, doi:10.1029/2001GL014157.
Borenäs K. and Nikolopoulos A., 2000: Theoretical calculations based on real topography of the maximal deep-water flow through the Jungfern Passage, J. Mar. Res., 58, 3, 701-719.
Marine fieldwork:
| | | |
| --- | --- | --- |
| 2018-2021 | IMR-Fjord&Coast | Recurrent cruises (2-3 times/year, 4-7 days at sea/cruise) with R/V Kristine Bonnevie (Norway): in the Troms and Finnmark fjord system. Cruise planning, monitoring with CTD/RO and assistance in mooring recovery/deployment (ADCP+SBE37+SBE56) |
| 2017 | SIPCA/PASCAL (PS106.1) | May 23 – Jun 21, R/V Polarstern (Germany): Expedition to the Arctic Ocean Nansen Basin. PI for ship-CTD programme and under-ice ADCP/CTD mooring line deployment during a 12-day ice drift. (Initial planning also of leg2 Jun23-Jul21 but not onboard). Co-applicant. |
| 2015 | ART TRANSSIZ (PS92) | May 19 – Jun 29, R/V Polarstern (Germany): Expedition to the Arctic Ocean Nansen Basin. PI for CTD/RO measurements and water sampling. Measurements with XCTD and UCTD from ship, and MMS90 from the ice. Co-applicant. |
| 2012 | WPD Control program Storgrunden | May 13-23 and Aug 5-6: Monitoring survey of demersal fish at Storgrunden offshore bank, Southern Bothnian Sea. Fishing and hydrographic sampling at sea, catch analysis on land. PI for CTD/turbidity measurements and water sampling. |
| 2007 | WPD EIA Finngrunden | May 26 – Jun 6 and Aug 1-24: Monitoring survey of demersal fish at Finngrunden offshore banks in the Southern Bothnian Sea. PI for fish survey and hydrographic sampling at sea, and for onland analysis of the catch. |
| 2005 | MIT/Joint Graduate Programme | Jun 22 – Jul 1, SSV Corwith Cramer (USA): Introductory cruise for students at Mid-Atlantic Bight. Teacher of CTD and hydrocasts, net-sampling, oxygen titration. Providing guidance for student projects. Handling of the tallship. |
| 2004 | Western Arctic SBI Experiment | Sep 2 – Oct 1, IB Healy (USA): Expedition to the Chukchi Shelf/Beaufort Sea. Water sampling, CTD-monitoring, logging of chemical analysis results, analysis of ship mounted thermosalinograph data, preparation of float instrument survey. |
| 2002 | Marie Curie fellowship, University of Bergen | Aug 2-14, R/V Haakon Mosby (Norway): Expedition to Storfjorden, Svalbard. Monitoring of the CTD and lowered ADCP. |
| 2001 | Graduate studies | Jun 29 – Aug 29, IB Oden (Sweden): Expedition to the High Arctic. Operation of the ship CTD/RO casts (all stages). Autosal salinity sample analysis. |
| 1997 | VEINS | Aug 13 – Sep 13, R/V Aranda (Finland): Expedition to the Denmark Strait, Iceland. Training in CTD/RO water sampling. |
Poster
2019
A 12-day Arctic ice-tethered mooring: Velocities, particles, and plankton migration
Vitenskapelige artikler (NVI)
2021
Methane cycling within sea ice: Results from drifting ice during late spring, north of Svalbard
The Cryosphere 15 p. 2701-2717
2021
Dense mesopelagic sound scattering layer and vertical segregation of pelagic organisms at the Arctic-Atlantic gateway during the midnight sun
Progress in Oceanography 196
2021
Carbon export in the seasonal sea ice zone north of Svalbard from winter to late summer
Frontiers in Marine Science 7
2020
Productive detours – Atlantic water inflow and acoustic backscatter in the major troughs along the Svalbard shelf
Progress in Oceanography 188
Faglige foredrag
2018
The "top to bottom" water characteristics along the PS106 cruise track
2018
A 12-day view of water velocities and particle distribution under the ice