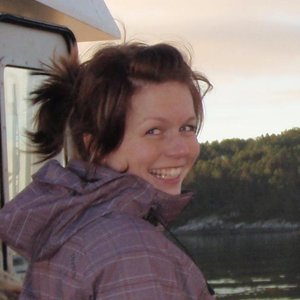 Academic lectures
2018
Feasibility of reducing lice infestations on farmed salmon using an airdome for swim bladder refilling during continuous submergence.
2018
Quantification of salmon lice larvae in the plankton
2018
Bruk av undervanns luftkuppel for oppdrett av laks i nedsenkte merder
2017
Temperature and Development of Lepeophtheirus salmonis: Implications for management of the parasite
2017
Lakselus og tilpasninger til temperatur
2016
Håndtering av lakselus ved høye og lave temperaturer
2016
Temperaturens betydning for utvikling av lakselus larver.
2015
Snorkel merd reduserer lusepåslag i små og store merder.
2014
Vannström: hvordan påverkar den laksoppdrett på sjøen?
Academic articles
2021
Finding the needle in the haystack: Comparison of methods for salmon louse enumeration in plankton samples
Aquaculture Research
2020
The effect of temperature on ability of Lepeophtheirus salmonis to infect and persist on Atlantic salmon (Salmo salar)
Journal of Fish Diseases 43 p. 1519-1529
2020
The effect of temperature on ability of Lepeophtheirus salmonis to infect and persist on Atlantic salmon
Journal of Fish Diseases 43 p. 1519-1529
2020
Cleaner fish growth, welfare and survival in Atlantic salmon sea cages during an autumn-winter production
Aquaculture 528 p. 1-10
2020
Parasite development affect dispersal dynamics; infectivity, activity and energetic status in cohorts of salmon louse copepodids
Journal of Experimental Marine Biology and Ecology 530-531
2020
Production and verification of the first Atlantic salmon (Salmo salar L.) clonal lines
BMC Genetics 21
2020
Atlantic salmon cope in submerged cages when given access to an air dome that enables fish to maintain neutral buoyancy
Aquaculture 525 p. 1-7
2018
Dissolved oxygen variability in a commercial sea-cage exposes farmed Atlantic salmon to growth limiting conditions
Aquaculture 486 p. 122-129
2017
Salmon lice evasion, susceptibility, retention, and development differ amongst host salmonid species.
ICES Journal of Marine Science 75 p. 1071-1079
2017
`Snorkel? lice barrier technology reduced two co- occurring parasites, the salmon louse (Lepeophtheirus salmonis) and the amoebic gill disease causing agent (Neoparamoeba perurans), in commercial salmon sea-cages
Preventive Veterinary Medicine 140 p. 97-105
2017
Assessing swimming capacity and schooling behaviour in farmed Atlantic salmon Salmo salar with experimental push-cages
Aquaculture 473 p. 423-429
2017
Effects of light source and intensity on sexual maturation, growth and swimming behaviour of Atlantic salmon in sea cages
Aquaculture Environment Interactions p. 193-204
2016
Salmon lice (Lepeophtheirus salmonis) development times, body size and reproductive outputs follow universal models of temperature dependence
Canadian Journal of Fisheries and Aquatic Sciences 73 p. 1841-1851
2016
Salmonid fish: model organisms to study cardiovascular morphogenesis in conjoined twins?
BMC Developmental Biology 16:25
2016
Critical swimming speed in groups of Atlantic salmon Salmo salar
Aquaculture Environment Interactions 8 p. 659-664
2015
Effect of water oxygen level on performance of diploid and triploid Atlantic salmon post-smolts reared at high temperature
Aquaculture 435 p. 354-360
2014
Production performance of Atlantic salmon (Salmo salar L.) postsmolts in cyclic hypoxia, and following compensatory growth
Aquaculture Research 45 p. 1355-1366
2014
Aplasia of the septum transversum has no effect on plasma biochemistry following an acute hypoxic event in Atlantic salmon
Diseases of Aquatic Organisms 111 p. 87-92
2014
The interaction between water currents and salmon swimming behaviour in sea cages
PLOS ONE 9
2011
Fluctuating sea-cage environments modify the effects of stocking densities on production and welfare parameters of Atlantic salmon (Salmo salar L.)
Aquaculture 315 p. 361-368
Posters
2016
Development times of sea lice Leperophtheirus salmonis at different temperatures and its influence on dispersal patterns.
Popular science articles
2015
Kommersielle snorkelmerder
Norsk Fiskeoppdrett p. 68-74