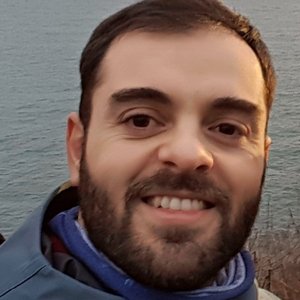 Strandgaten 196, office 211
Date of birth: 28 July 1980
Nationality: Hellenic
Marital status: Single

Higher Education
2011: Doctor of Philosophy degree (Ph.D.) University of Crete, Greece. Title: "Trophic ecology of small pelagic fish"
2006: Master's Degree (M.Sc.) in Ecology, Management and Protection of the Natural Environment, University of Patras, Greece. Master thesis: "Development of a methodology to define metamorphosis in fish: application to species of the Sparidae family"
2004: Bachelor Degree (B.Sc.) in Biology, University of Patras, Greece

Military Service
2011 - 2012: Greek Military Service (Assistant Microbiologist)

Employment
2018 - present: Researcher at the Center for Development in Cooperation in Fisheries, IMR, Bergen, Norway
2015 - 2018: Postdoctoral researcher in the NFR project EcoNorSe (http://econorse.imr.no), Pelagic fish group, IMR, Bergen, Norway
2012 - 2014: Postdoctoral position (Institute of Marine Biological Resources and Inland Waters, HCMR, Greece)
2007 - 2011: Research fellow / PhD student at the University of Crete, Greece
2004 - 2006: Research fellow / MSc student at the University of Patras, Greece
Vitenskapelige artikler (NVI)
2019
Drivers of the summer-distribution of Northeast Atlantic mackerel (Scomber scombrus) in the Nordic Seas from 2011 to 2017; a Bayesian hierarchical modelling approach.
ICES Journal of Marine Science 76 p. 530-548
2019
Changing fish distributions challenge the effective management of European fisheries
Ecography accepted for publication (Nei)
2018
Preliminary assessment of discards survival in a multi-species Mediterranean bottom trawl fishery
Journal of Applied Ichthyology 34 p. 842-849
2018
Spawning stock, egg production and larval survival in relation to small pelagic fish recruitment
Marine Ecology Progress Series (under review) (Ja)
2018
Effects of hypoxia on the pelagic community in Elefsina Bay: A size-spectra approach
(in preparation) (Nei)
2017
Bacterial growth and mortality after deposition of saharan dust and mixed aerosols in the eastern mediterranean sea: A mesocosm experiment
Frontiers in Marine Science 3
2017
Morphometric discrimination of pelagic fish stocks challenged by variation in body condition
ICES Journal of Marine Science (Ja)
2017
Atmospheric deposition effects on plankton communities in the Eastern Mediterranean: A mesocosm experimental approach
Frontiers in Marine Science 4:210 p. 1-17
2016
Viability and management targets of mediterranean demersal fisheries: The case of the aegean sea
PLOS ONE 11:e0168694 (Ja)
2015
Mussel farming in Maliakos Gulf and quality indicators of the marine environment: Good benthic below poor pelagic ecological status.
Marine Pollution Bulletin 101 (Ja) p. 784-793
2015
Tenure and academic deadwood.
Ethics in Science and Environmental Politics 15 (Ja) p. 87-93
2015
The seascape of demersal fish nursery areas in the North Mediterranean Sea, a first step towards the implementation of spatial planning for trawl fisheries
PLoS ONE 03/2015; 10(3) (Ja)
2014
Synchronization in allometric and morphological changes during metamorphosis: Comparison among four sparid species.
Aquatic Biology 21 (Ja) p. Aquatic Biology
2014
Trophodynamics of anchovy in a non-upwelling system: Direct comparison with sardine.
Marine Ecology Progress Series 500 (Ja) p. 215-229
2012
Diet of sardine Sardina pilchardus: an "end-to-end" field study.
Marine Ecology Progress Series 453 (Ja) p. 173-188
2011
Diel feeding intensity and daily ration of the sardine Sardina pilchardus.
Marine Ecology Progress Series 437 (Ja) p. 215-228
2010
Defining length-at-metamorphosis in fishes: a multi-character approach.
Marine Biology 157 (Ja) p. 991-1001
2010
What makes a late anchovy larva? The development of the caudal fin seen as a milestone in fish ontogeny.
Journal of Plankton Research 32 (Ja) p. 317-326
2007
Oceanographic habitat, growth and mortality of larval anchovy (Engraulis encrasicolous) in the northern Aegean Sea (eastern Mediterranean).
Marine Biology 152 (Ja) p. 1143-1158
Annet tidsskriftbidrag
2017
Corrigendum: Bacterial Growth and Mortality after Deposition of Saharan Dust and Mixed Aerosols in the Eastern Mediterranean Sea: A Mesocosm Experiment
Frontiers in Marine Science 4
Rapporter og avhandlinger
2017
Report of the Working Group on Fish Distribution Shifts (WKFISHDISH)
ICES CM 2016/ACOM: 55 (Ja) p. 197 pp
Kapitler og bøker
2015
Biology exercises laboratory manual (Language: Greek)
Hellenic Academic Libraries Link (Ja)