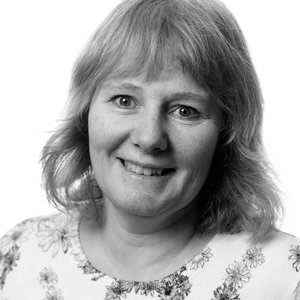 Fields of interest and present research activities
ecosystem interactions, coupled physical-chemical-biological modelling, end-to-end individual based modelling, climate incl ocean acidification effects on ecosystems, plastics in the marine environments, cod recruitment
ClimeFish https://climefish.eu/
Name: Solfrid Sætre Hjøllo
Born: 160368
Nationality: Norwegian
Present position: Research scientist, Institute of Marine Research
Academic degree: PhD in Geophysics, University of Bergen, 1999.
Education:
1999: Dr.Scient Physical oceanography, University of Bergen, Norway
1991: Cand.scient Physical oceanography, University of Bergen, Norway
Work experience 2000-2017:
2016-present: Research Scientist Institute of Marine Research
2015-2016: Special advisor on climate issues, Hordaland County Council
2009-2015: Research Scientist Institute of Marine Research
2007-2009: Post Doc Institute of Marine Research
2001-2007: Research project administrator/coordinator/research scientist Bjerknes Centre for Climate Research 2/2/1 years
2000-2001: Associate professor, University of Bergen
Peer review publications (se Publication list)
Book chapters (1):
John Huthnance, Ralf Weisse, Thomas Wahl, Helmuth Thomas, Julie Pietrzak, Alejandro Jose Souza, Sytze van Heteren, Natalija Schmelzer, Justus van Beusekom, Franciscus Colijn, Ivan Haigh, Solfrid Hjøllo, Jürgen Holfort, Elizabeth C. Kent, Wilfried Kühn, Peter Loewe, Ina Lorkowski, Kjell Arne Mork, Johannes Pätsch, Markus Quante, Lesley Salt, John Siddorn, Tim Smyth, Andreas Sterl, Philip Woodworth (2016): Recent Change—North Sea. Chapter in North Sea Region Climate Change Assessment, Editors: Markus Quante, and Franciscus Colijn. Part of the series Regional Climate Studies pp 85-136
Advisory and management:
Cecilie Broms, Espen Strand, Kjell Rong Utne, Solfrid Hjøllo, Svein Sundby, Webjørn Melle(Havforskningsinstituttet): Scientific background material for management plan for Calanus finmarchicus. Report from IMR 2016. (in Norwegian).
Member of IMR Advisory team: Offshore wind 2010-2018
Project experience:
EU-projects:
ClimeFish: Marine Sector Leader, research participant, and internal project leader at IMR (ongoing).
Research participant: PRIME (ongoing), MyOcean I/II, RECLAIM, ECOOP, MEECE, BASIN (earlier)
National projects:
Ocean Acidification-Fram Center Flagship WP3-OA8: Coupled climate-ecosystem-Acidification Modelling from ORganism to basin (AMOR): Research participant and internal project leader at IMR (onging)
ScaleClim: Research participant and WP-leader(ongoing)
Plastic in the marine environement: Research participant and WP-leader(ongoing),
research participant in ongoing projects: LOES (Bjerknes Center), MORMOR, TIBIA, others
Education: ØEV001 Project administration, Bergen University College, December 2012. 5 studypoints. Mark: A
Educational experience
Clarissa Endo, PhD-student IMR/UiO 2018-2020
Shuang Gao, Post.doc IMR 2018-2020
Jason Tepker, Dalhousie University, Halifax, Nova Scotia, Canada: Summer internship student 2014,
Extensive teaching & external examinator experience from University of Bergen, University Centre in Svalbard , Ålesund University College, Nordland University 2000-2018
Other professional merits:
Chair of ICES Working Group on Integrative, Physical-biological and Ecosystem Modeling (WGIPEM), 2019-2021
Board Member, Center for Climate Dynamics Bjerknes 2010-2015
Scientific Committee Member, Nansen Environmental and Remote Sensing Center 2011-2018
Hjort Centre 'Science motivator/Core team' 2014-2017
International Union of Geodesy and Geophysics 2011-2015: National representative for IAPSO in "Nasjonalkomiteen for geodesi og geofysikk ('IUGG-komiteen')
Scientific Committee Member, Norwegian Centre for Offshore Wind Energy 2010-2012.
Session organizer: Session 015: Physical-biological interactions in mesoscale eddies: governing processes and implications for the marine ecosystem. AGU OSM 2014 Hawaii, USA
Popular science, period 2000-2017: ~20 articles and ~30 presentations
June 12-30 2000, Boulder Colorado, UCAR Visiting Scientist Programs. Summer school: Young Investigators Workshop.
Vitenskapelige artikler (NVI)
2020
The importance of calibrating climate change projections to local conditions at aquaculture sites
Aquaculture
2018
Future ecosystem changes in the Northeast Atlantic: a comparison between a global and a regional model system
ICES Journal of Marine Science 75 p. 2355-2369
2018
Responses of summer phytoplankton biomass to changes in top-down forcing: Insights from comparative modelling
Ecological Modelling 376 p. 54-67
2018
Modeling emergent life histories of copepods
Frontiers in Ecology and Evolution 6
2017
Can collective memories shape fish distributions? A test, linking space-time occurrence models and population demographics
Ecography
2016
An assessment of the added value from data assimilation on modelled Nordic Seas hydrography and ocean transports
Ocean Modelling 99 p. 43-59
2016
Seasonal phytoplankton blooms in the North Atlantic linked to the overwintering strategies of copepods
Elementa: Science of the Anthropocene 2016
2014
Productivity in the Barents Sea - Response to recent climate variability
PLOS ONE 9
2014
Calanus finmarchicus abundance, production and population dynamics in the Barents Sea in a future climate
Progress in Oceanography 125 p. 26-39
2014
Predation control of zooplankton dynamics: a review of observations and models
ICES Journal of Marine Science 71 p. 254-271
2012
Estimating the consumption of Calanus finmarchicus by planktivorous fish in the Norwegian Sea using a fully coupled 3D model system
Marine Biology Research 8 p. 527-547
2012
Mesoscale Eddies Are Oases for Higher Trophic Marine Life
PLOS ONE 7
2012
Multi-decadal variability and trends in the temperature of the northwest European continental shelf: A model-data synthesis
Progress in Oceanography 106 p. 96-117
2012
Modelling secondary production in the Norwegian Sea with a fully coupled physical/primary production/individual-based Calanus finmarchicus model system
Marine Biology Research 8 p. 508-526
2012
Particle aggregation at the edges of anticyclonic eddies and implications for distribution of biomass
Ocean Science 8 p. 389-400
2011
North Sea sensitivity to atmospheric forcing
Journal of Marine Systems 85 p. 106-114
2009
Exploring currents and heat within the North Sea using a numerical model
Journal of Marine Systems 78 p. 180-192
2006
Passive tracers and active dynamics: A model study of hydrography and circulation in the northern North Atlantic
Journal of Geophysical Research (JGR) 111
Poster
2019
Climate change under management scenarios - a study of the Nordic and Barents Seas
2017
An Individual Based Model for Calanus hyperboreus in the Greenland Sea
2017
Assessing the importance of zooplankton sampling patterns with NORWECOM.E2E
2014
Impact of climate change on lower tropic levels in the Barents Sea
2014
A MULTIMETHOD APPROACH TO LINKING MESOSCALE STRUCTURES TO DISTRIBUTION
2014
THE ABUNDANCE, PRODUCTION AND POPULATION DYNAMICS OF CALANUS FINMARCHICUS IN THE BARENTS SEA IN A FUTURE CLIMATE SCENARIO
2011
A case study of integration of the 1000 MW wind farm with both a wave farm and an aquaculture farm
2004
Vertical Atlantic Water extent in inflow areas
2004
Resultater fra ProClim og NoClim
2004
Polar Ocean Climate Processes
2004
Norwegian Ocean and Climate Project
2002
NOClim: A study of climate variability in the northern seas
2001
Norwegian Ocean Climate Project
Mediebidrag
2014
I sporene etter Hjort
Kapitler og bøker
2017
Hav er meir enn vatn
2016
Recent Change - North Sea
p. 85-136
Populærvitenskapelige artikler
2005
Stabiliteten til Golfstrømsystemet
Cicerone p. 20-22
2005
Temperatursvigninger i Atlanterhavet knyttes til klimaendringer
Cicerone
2005
Hvordan istidene startet på nordlige halvkule
Cicerone p. 30-31
2005
Store historiske temperaturvariasjoner
Cicerone p. 27-28
2004
Nye vinddata forbetrar havmodellar
Cicerone 1
2004
Kartlegger havstrømmers styrke tilbake i tid
Cicerone 1 p. 25-25
2004
Golfstrømmen overvåkes
Cicerone 1
2004
Spredning av SF6 i Grønlandshavet
Cicerone p. 21-24
2004
Ferskvannsbalansen i Atlanterhavet i endring
Cicerone 2 p. 30-31
2003
Bråe klimaendringer ved utgangen av istiden
Cicerone 3 p. 26-28
2003
Polare klimaprosesser under lupen
Cicerone 3 p. 30
2003
Atlanterhavet er et gigantisk varmelager
Cicerone 3 p. 31
2003
Hav og klima i samspill
Cicerone p. 29-31
2002
Dypvannsdannelse i ny form
Cicerone 3 p. 20-22
2002
Norwegian Ocean Climate Project (NOClim)
Pages News
2002
Raske klimaendringer før og nå
Cicerone 11 p. 26-27
2001
Polarfronten og den vestlige grenen av Den norske atlanterhavsstrømmen
Cicerone 6 p. 22-24
2001
Datasimulering av nedsynking i havet
Cicerone p. 24-25
2001
Hvor raskt stiger havet egentlig ?
Cicerone 6 p. 25
2001
Nytt forskningsprosjekt om nordlige havområder og klima
Cicerone 5
Faglige foredrag
2019
Possible Barents Sea climate and ecosystem changes in a moderate future emission scenario (RCP4.5)
2019
Assessing future climate effects on the pelagic complex in the Norwegian Sea
2019
Marine Sector input:«European Challenges to climate change». Supporting National Adaptation Plans with ClimeFish results
2018
Recruitment dynamics of Norwegian spring-spawning herring: tracing the fate of early developing oocytes to the 0-group stage
2018
Primary drivers of changes in productivity in a future warmer Barents Sea - a comparison of 3 downscaled ecosystem models
2018
Ecosystem modeling in the Norwegian Sea
2018
Climate change effects on growth, reproduction and distribution of Norwegian Spring Spawning Herring
2018
Distribution of plankton and pelagic fish in a future climate
2018
Future ecosystem changes in the Northeast Atlantic: a comparison between a global and a regional model system
2018
Modelling the phyto-zooplankton complex
2018
Kartlegging av gytetid for torsk – Innsamling av gonadeprøver til ScaleClim og noen resultater fra prosjektet
2018
CLIMATE CHANGE, SEA SURFACE TEMPERATURE AND SALMON AQUACULTURE IMPLICATIONS
2017
Projections of primary production in the Barents Sea in a future climate
2017
Projected changes in ocean acidification in the Arctic: effects of going regional
2017
Pelagic Fish Observation System Simulator (PELFOSS)
2017
Application of an ecosystem model in developing a management plan for Calanus finmarchicus
2016
Towards an E2E model for the Norwegian Sea: Uncertainties in zooplankton biomass estimates
2016
IMR Ecosystem modelling with focus on Calanus finmarchicus
2016
Risikovurdering av norsk fiskeoppdrett 2016
2015
A direct estimate of the Calanus finmarchicus biomass in the Norwegian Sea
2014
Når 2 pluss2 blir mer enn 4: Hjortsenteret for marin økosystemdynamikk skal svare på de store spørsmålene om havet
2013
2050: er det nok sushi til alle?
2013
Marine ressurser i 2049
2012
Effects of climate change on the Calanus complex in the Nordic Seas from individual based model simulations
2012
Environmental effects of wind farm and combined aquaculture and wind farms, and our role in the AquaWind project
2012
NORWECOM.E2E: Results focusing on the calanus module
2012
Secondary productivity in the Barents Sea—role of phytoplankton and climate effects
2012
Mesoscale eddies stimulate higher trophic level marine life—acoustically recorded density distribution creates understanding of the impact of physical forcing
2011
Klimaeffekter på det marine økosystem
2011
The effects of climate variability and change on northern marine ecosystems, including fisheries
2011
North Sea sensitivity to atmospheric forcing
2010
Coupled physical- biological IBM modeling at IMR: from ocean physics to zooplankton and fish, - and back again
2010
Klimaeffekter på det marine økosystemet
2010
Klimaendringer i havet med fokus på norske havområder
2010
IMR downscalings of North Sea future climate
2009
Effects of climate on Norwegian Sea secondary production
2008
Modelling zooplankton-phytoplankton interactions in the Nordic Seas using a fully coupled 3 dimensional Calanus finmarchicus Individual Based Model
2008
Past and future climate change relevant for fish and fisheries
2008
Long term changes in North Sea physics and phytoplankton from NORWECOM
2006
Passive tracers and active dynamics - a model study of hydrography and circulation in the northern North Atlantic
2005
Stabiliteten av Golfstrømmen. Miniseminar. Innledninger ved E.Falck og S.Hjøllo
2005
The Nordic Seas: Changes in Flow, Circulation and Hydrography
2005
Passive tracers and active dynamics in the Northern North Atlantic
2004
The Nordic Seas; a gateway between the North Atlantic and Arctic Oceans
2004
Nordic Sea circulation: variability and changes
2001
Particle tracking in the Norwegian Sea inflow
Annet tidsskriftbidrag
2012
Virvler i havet skaper oaser av liv
Bergens Tidende
Rapporter og avhandlinger
2018
PELFOSS (PELagic Fish Observation System Simulator)
2016
Vitenskapelig bakgrunnsmateriale for forvaltningsplan for raudåte
2014
Network building on oceanic meso-scale eddies and marine ecosystems
2001
NOClim Technical report
2001
NOClim Progess Report 2000-2001
2001
NOClim Technical Report No 1
1999
A comparative study of the Norwegian Sea inflow
1998
Om T-S-diagrammer, bakgrunn og eksempler på anvendelse