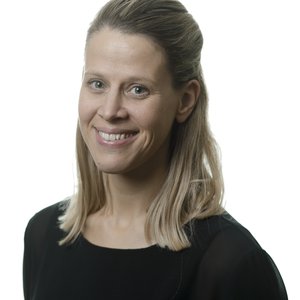 Faglige foredrag
2019
Nutrient composition in seafood products available for Norwegian consumers.
2019
Jodinntak i Norge- fokus på gravide og ammende
2017
Developmental status in association with thyroid hormone disturbances in an area of excessive iodine intakes.
2017
Developmental delays in relation with thyroid hormone status in an area of excessive iodine.
2017
Thyroid disturbances is associated with developmental status in children below 4 years with chronical excessive iodine exposure.
2017
Infant feeding practices in the Saharawi refugee camps Algeria -a cross-sectional study among children from birth to six months of age
2015
Iodine excess and thyroid function
2014
Hormonal and developmental consequences of excessive iodine -Preliminære resultater fra et PhD prosjekt
2013
Excessive iodine among Saharawi women and children
2013
Excessive iodine among Saharawi women and children -Iodine and human milk
2011
DIETARY IODINE INTAKE AND IODINE STATUS OF LACTATING WOMEN IN THE SAHARAWI REFUGEE CAMPS
Vitenskapelige artikler (NVI)
2020
Variation in Nutrient Composition of Seafood from North West Africa: Implications for Food and Nutrition Security
Foods 9
2020
Effects of Two Weekly Servings of Cod for 16 weeks in Pregnancy on Maternal Iodine Status and Infant Neurodevelopment: Mommy's Food, a Randomized-Controlled Trial
Thyroid
2020
Composition of nutrients, heavy metals, polycyclic aromatic hydrocarbons and microbiological quality in processed small indigenous fish species from Ghana: Implications for food security
PLOS ONE 15
2020
Iodine and Mercury Content in Raw, Boiled, Pan-Fried, and Oven-Baked Atlantic Cod (Gadus morhua)
Foods 9
2020
Vegans, Vegetarians and Pescatarians Are at Risk of Iodine Deficiency in Norway
Nutrients 12
2020
Iodine status and thyroid function in a group of seaweed consumers in Norway
Nutrients 12 p. 1-14
2020
Fatty acid reference intervals in red blood cells among pregnant women in Norway–Cross sectional data from the 'Little in Norway' cohort
Nutrients 12 p. 1-16
2020
Sampling protocol for the determination of nutrients and contaminants in fish and other seafood – The EAF-Nansen Programme
MethodsX 7
2020
Nutrient composition of 19 fish species from Sri Lanka and potential contribution to food and nutrition security
Journal of Food Composition and Analysis 91
2020
Nutrient Composition of Demersal, Pelagic, and Mesopelagic Fish Species Sampled Off the Coast of Bangladesh and Their Potential Contribution to Food and Nutrition Security—The EAF-Nansen Programme
Foods 9 p. 730
2020
Iodine status during pregnancy and at 6 weeks, 6, 12 and 18 months post-partum
p. 1-10
2020
Fish for food and nutrition security in Ghana: Challenges and opportunities
Global Food Security 26
2020
Mercury, lead, arsenic, and cadmium in Norwegian seafood products and consumer exposure
13 p. 99-106
2019
New data on nutrient composition in large selection of commercially available seafood products and its impact on micronutrient intake
2019
Validation and reproducibility of a new iodine specific food frequency questionnaire for assessing iodine intake in Norwegian pregnant women
Nutrition Journal 18
2019
High iodine content in local animal milk and risk of exceeding EFSA upper intake level for iodine among Saharawi women
PLOS ONE 14 p. 1-11
2018
Sufficient iodine status among Norwegian toddlers 18 months of age – cross-sectional data from the Little in Norway study
62:1443 p. 1-9
2018
Trace element concentrations in drinking water and urine among Saharawi women and young children
Toxics 6 p. 1-17
2018
Suboptimal Iodine Status and Low Iodine Knowledge in Young Norwegian Women
Nutrients 10
2018
Suboptimal iodine status among pregnant women in the Oslo area, Norway
Nutrients 10
2017
Infant feeding practices in the Saharawi refugee camps Algeria, a cross-sectional study among children from birth to six months of age
International Breastfeeding Journal 12:8 p. 1-10
2017
Knowledge about Iodine in Pregnant and Lactating Women in the Oslo Area, Norway
Nutrients 9
2017
Suboptimal Iodine Concentration in Breastmilk and Inadequate Iodine Intake among Lactating Women in Norway
Nutrients 9
2017
Associations between thyroid dysfunction and developmental status in children with excessive iodine status
PLOS ONE 12
2016
Thyroid function among breastfed children with chronically excessive iodine intakes
Nutrients 8:398
2015
Excessive iodine intake and thyroid dysfunction among lactating Saharawi women
Journal of Trace Elements in Medicine and Biology 31 p. 279-284
2015
Development of thyroid dysfunction among women with excessive iodine intake - A 3-year follow-up
Journal of Trace Elements in Medicine and Biology 31 p. 61-66
Annet tidsskriftbidrag
2018
Excessive iodine status among Saharawi refugees
Journal of Trace Elements in Medicine and Biology 45 p. 48-49
2011
Iodine status and thyroid function among lactating women in the Saharawi refugee camps, Tindouf, Algeria
Annals of Nutrition and Metabolism 58 p. 332-332
Rapporter og avhandlinger
2017
Excessive iodine status among refugee women and children from Western Sahara. Possible impact on thyroid function and developmental status