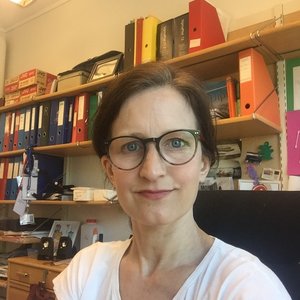 Vitenskapelige artikler (NVI)
2019
A brief history of lumpfishing, assessment, and management across the North Atlantic
ICES Journal of Marine Science 76 p. 181-191
2018
Freshwater eels: A symbol of the effects of global change
Fish and Fisheries 19 p. 903-930
2018
Exposure to teflubenzuron negatively impacts exploratory behavior, learning and activity of juvenile European lobster (Homarus gammarus)
Ecotoxicology and Environmental Safety 160 p. 216-221
2018
Long-term variation in numbers and biomass of silver eels being produced in two European river systems
ICES Journal of Marine Science 75 p. 1627-1637
2017
Glass eels (Anguilla anguilla) have a magnetic compass linked to the tidal cycle
Science Advances 3:e1602007 p. 1-9
2017
Timing and pattern of annual silver eel migration in two European watersheds are determined by similar cues
Ecology and Evolution 7 p. 5956-5966
2017
Early life stages of the Arctic copepod Calanus glacialis are unaffected by increased seawater pCO2
ICES Journal of Marine Science 74 p. 996-1004
2017
The early life stages of the Arctic copepod Calanus glacialis are unaffected by increased seawater pCO2
ICES Journal of Marine Science 74 p. 996-1004
2016
Male biased sexual size dimorphism in the nest building corkwing wrasse (Symphodus melops): implications for a size regulated fishery
ICES Journal of Marine Science 73 p. 2586-2594
2016
Vital rates of an ecologically critical planktonic species in North Atlantic ecosystems, Calanus finmarchicus, are unaffected by high CO2
ICES Journal of Marine Science 73 p. 937-950
2015
Understanding the decline in anguillid eels
ICES Journal of Marine Science 73 p. 1-4
2015
Infection of the planktonic copepod Calanus finmarchicus by the parasitic dinoflagellate, Blastodinium spp: effects on grazing, respiration, fecundity and fecal pellet production
Journal of Plankton Research 37 p. 211-220
2015
Distribution and habitat preferences of five species of wrasse (family Labridae) in a Norwegian fjord.
ICES Journal of Marine Science 72 p. 890-899
2015
UV radiation changes algal stoichiometry but does not have cascading effects on a marine food chain
Journal of Plankton Research 37 p. 1120-1136
2015
The swimming kinematics and foraging behavior of larval Atlantic herring (Clupea harengus L.) are unaffected by elevated pCO2
Journal of Experimental Marine Biology and Ecology 466 p. 42-48
2014
Genetic structure of the lumpfish Cyclopterus lumpus across the North Atlantic
ICES Journal of Marine Science 71 p. 2390-2397
2014
Lumpfish (Cyclopterus lumpus) in the Barents Sea: development of biomass and abundance indices, and spatial distribution
ICES Journal of Marine Science 71 p. 2398-2402
2014
A simplified method to estimate body growth parameters of the European eel Anguilla anguilla
Journal of Fish Biology 85 p. 978-984
2014
Wrasse (Labridae) as cleaner fish in salmonid aquaculture - The Hardanger fjord as a case study
Marine Biology Research 10 p. 289-300
2013
Sub-lethal exposure to ultraviolet radiation reduces prey consumption by Atlantic cod larvae (Gadus morhua)
Marine Biology 160 p. 2591-2596
2013
Delousing of Atlantic salmon (Salmo salar) by cultured vs. wild ballan wrasse (Labrus bergylta)
Aquaculture 402 p. 113-118
2013
Magnetic Compass Orientation in the European Eel
PLOS ONE 8
2013
The swimming kinematics of larval Atlantic cod, Gadus morhua L., are resilient to elevated seawater pCO2
Marine Biology
2012
Effect of Sub-Lethal Exposure to Ultraviolet Radiation on the Escape Performance of Atlantic Cod Larvae (Gadus morhua)
PLOS ONE 7
2011
Grazing rates of Calanus finmarchicus on Thalassiosira weissflogii cultured under different levels of ultraviolet radiation
PLOS ONE 6 p. e26333
2011
Influence of oceanic factors on Anguilla anguilla (L.) over the twentieth century in coastal habitats of the Skagerrak, southern Norway
Proceedings of the Royal Society of London. Biological Sciences 278 p. 464-473
2008
Relationship between locomotor activity, environmental factors, and timing of the spawning migration in the European eel, Anguilla anguilla
Aquatic Living Resources 21 p. 163-170
2008
Predicting downstream migration of silver eels in a large river catchment based on commercial fishery data
Fisheries Management and Ecology 15
2007
Endocrine profiles during silvering of the European eel (Anguilla anguilla L.) living in saltwater
Animal Biology 57 p. 453-465
Poster
2013
Effects of ocean acidification on growth and development of the planktonic copepod, Calanus finmarchicus
Kapitler og bøker
2018
Report on the eel stock, fishery and other impacts, in: Norway 2018
p. 356-362
2017
Hav er meir enn vatn
2016
Report on the eel stock and fishery in: Norway 2014/2015. Report of the Joint EIFAAC/ICES/GFCM Working Group on Eels (WGEEL)
p. 630-652
2014
Report on the eel stock and fishery in Norway 2013/2014
p. 692-707
2013
Report on the eel stock and fishery in Norway 2012/2013
p. 616-633
Populærvitenskapelige artikler
2015
Fremdeles stort behov for kunnskap om leppefisk
Fisken og Havet, Særnummer p. 75-78
2013
Leppefisk og leveområder
Norsk Fiskeoppdrett p. 95-98
2013
Alder og vekst hos vill leppefisk
Norsk Fiskeoppdrett p. 91-94
2013
Er oppdrettede berggylt så gode luseplukkere som villfanget leppefisk?
Norsk Fiskeoppdrett p. 87-90
Faglige foredrag
2019
Electric and magnetic senses in marine animals , and potential effects of electromagnetic surveys
2018
Marine fiske egg er meget følsomme for olje forurensning
2016
End of the century CO2 concentrations do not have a negative effect on vital rates of Calanus finmarchicus, an ecologically critical planktonic species in North Atlantic ecosystems
2016
The delousing efficiency of different species of cleanerfish, used alone and in various combinations
2016
Spectral sensitivity of cleanerfish
2016
End of the century CO2 concentrations do not have a negative effect on vital rates of Calanus finmarchicus, an ecologically critical planktonic species in North Atlantic ecosystems
2016
Cascading effects of UV radiation on a simple marine food chain
2016
Infection of the planktonic copepod Calanus finmarchicus by the parasitic dinoflagellate, Blastodinium spp: effects on grazing, respiration, fecundity and fecal pellet production
2016
Gene expression responses to increased pCO2 during the larval development of the Arctic copepod Calanus glacialis
2016
Cleanerfish and predation
2016
Artificial light and cleanerfish
Annet tidsskriftbidrag
2017
Whether European eel leptocephali use the Earth's magnetic field to guide their migration remains an open question
Current Biology 27 p. R998-R1000
Rapporter og avhandlinger
2018
Program rensefisk: Adferd og artssamspill i laksemerder
2018
Forskningsfangst etter ål (2017), sluttrapport
2017
Seleksjon i leppefiskredskap - FHF-prosjekt 901253, sluttrapport
2017
Forskningsfangst av ål - Sluttrapport HI-prosjekt 81333
2017
Program rensefisk: Kunstig lys og rensefisk - Sluttrapport FHF prosjekt 901146
2017
Seleksjon i leppefiskredskap: Rapport fra forsøk utført i 2016
2010
Kunnskapsstatus leppefisk Utfordringer i et økende fiskeri
2008
Analysis of European eel (Anguilla anguilla) time series in Norway
2008
Forvaltning av ål i Norge. Rapport med forslag til revidert forvaltning av ål i saltvann fra arbeidsgruppe nedsatt av Fiskeridirektøren