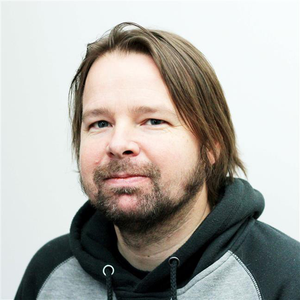 Vitenskapelige artikler (NVI)
2019
Offshore crude oil disrupts retinoid signaling and eye development in larval Atlantic haddock
Frontiers in Marine Science 6:368 p. 1-14
2019
Effects of cholecystokinin (CCK) on gut motility in the stomachless fish ballan wrasse (Labrus bergylta)
Frontiers in Neuroscience 13:553 p. 1-20
2019
Intestinal function of the stomachless fish, ballan wrasse (Labrus bergylta)
Frontiers in Marine Science 6 p. 1-15
2019
Analysis of immunoglobulin and T cell receptor gene expression in ballan wrasse (Labrus bergylta) revealed an extraordinarily high IgM expression in the gut
Fish and Shellfish Immunology 87 p. 650-658
2018
Parental high dietary arachidonic acid levels modulated the hepatic transcriptome of adult zebrafish (Danio rerio) progeny
PLOS ONE 13
2018
Loss of stomach, loss of appetite? Sequencing of the ballan wrasse (Labrus bergylta) genome and intestinal transcriptomic profiling illuminate the evolution of loss of stomach function in fish
BMC Genomics 19 p. 1-17
2018
T cell receptor alpha chain genes in the teleost Ballan wrasse (Labrus bergylta) are subjected to somatic hypermutation
Frontiers in Immunology 9:1101 p. 1-11
2018
Benzo(a)pyrene reduces osteoclast and osteoblast activity in ex-vivo scales of zebrafish (Danio rerio [Hamilton-Buchanan, 1822]) and goldfish (Carassius auratus [Linnaeus, 1758])
Journal of Applied Ichthyology 34 p. 431-439
2017
Ossification of Atlantic cod (Gadus morhua) – Developmental stages revisited
Aquaculture 468 Part 1 p. 524-533
2017
High dietary arachidonic acid levels induce changes in complex lipids and immune-related eicosanoids and increase levels of oxidised metabolites in zebrafish (Danio rerio)
British Journal of Nutrition 117 p. 1075-1085
2016
Vitamin A and arachidonic acid altered the skeletal mineralization in Atlantic cod (Gadus morhua) larvae without any interactions on the transcriptional level
Comparative Biochemistry and Physiology A 191 p. 80-88
2016
Dietary vitamin A supplementation ameliorates the effects of poly-aromatic hydrocarbons in Atlantic salmon (Salmo salar)
Aquatic Toxicology 175 p. 171-183
2016
Exposure of first-feeding cod larvae to dispersed crude oil results in similar transcriptional and metabolic responses as food deprivation
Journal of Toxicology and Environmental Health, Part A 79 p. 558-571
2016
Transcriptional effects of metal-rich acid drainage water from the abandoned Løkken Mine on Atlantic salmon (Salmo salar) smolt
Journal of Toxicology and Environmental Health, Part A 79 p. 612-632
2016
Characterization of IgM in Norwegian cleaner fish (lumpfish and wrasses)
Fish and Shellfish Immunology 59 p. 9-17
2015
Polyaromatic hydrocarbons in aquafeeds, source, effects and potential implications for vitamin status of farmed fish species: A review
Aquaculture Nutrition 21 p. 257-273
2014
Arachidonic acid enhances turnover of the dermal skeleton: Studies on zebrafish scales e89347
PLOS ONE 9
2013
Cytokine gene expression and prostaglandin production in head kidney leukocytes isolated from Atlantic cod (Gadus morhua) added different levels of arachidonic acid and eicosapentaenoic acid
Fish and Shellfish Immunology 34 p. 770-777
2013
Transcriptional responses to temperature and low oxygen stress in Atlantic salmon studied with next-generation sequencing technology
BMC Genomics 14:817
2012
Retinoic acid induces two osteocalcin isoforms and inhibits markers of osteoclast activity in Atlantic cod (Gadus morhua) ex vivo cultured craniofacial tissues
Comparative Biochemistry and Physiology A 161 p. 174-184
2012
Pathogen recognition and mechanisms in Atlantic cod (Gadus morhua) head kidney cells Bacteria (LPS) and virus (poly I:C) signals through different pathways and affect distinct genes
Fish and Shellfish Immunology 33 p. 267-276
2012
Is chemically dispersed oil more toxic to Atlantic cod (Gadus morhua) larvae than mechanically dispersed oil? A transcriptional evaluation
BMC Genomics 13
2011
Molecular cloning of IgT from Atlantic salmon, and analysis of the relative expression of tau, mu, and delta in different tissues
Veterinary Immunology and Immunopathology 139 p. 17-26
2011
Transcriptional responses in juvenile Atlantic cod (Gadus morhua) after exposure to mercury-contaminated sediments obtained near the wreck of the German WW2 submarine U-864, and from Bergen Harbor, Western Norway
Chemosphere 83 p. 552-563
2011
Expression of genes regulating protein metabolism in Atlantic cod (Gadus morhua L.) was altered when including high diet levels of plant proteins
Aquaculture Nutrition 17 p. 33-43
2011
Transcriptional evidence for low contribution of oil droplets to acute toxicity from dispersed oil in first feeding Atlantic cod (Gadus morhua) larvae
154 p. 333-345
2010
Transcriptional effects on glutathione S-transferases in first feeding Atlantic cod (Gadus morhua) larvae exposed to crude oil
Chemosphere 79 p. 905-913
2009
Gene expression profiling in atlantic cod (Gadus Morhua L.) from two contaminated sites using a custom-made cDNA microarray
Environmental Toxicology and Chemistry 28 p. 1711-1721
2009
Are atlantic cod in Store Lungegårdsvann, a seawater recipient in Bergen, affected by environmental contaminants? A qRT-PCR survey
Journal of Toxicology and Environmental Health, Part A 72 p. 140-154
2009
Effects of environmental relevant doses of pollutants from offshore oil production on Atlantic cod (Gadus morhua)
150 p. 141-149
2009
Transcriptional effects of nonylphenol, bisphenol A and PBDE-47 in liver of juvenile Atlantic cod (Gadus morhua)
Chemosphere 75 p. 360-367
2008
Pharmacokinetics and transcriptional effects of the anti-salmon lice drug emamectin benzoate in Atlantic salmon (Salmo salar L.)
BMC Pharmacology 8
2008
A laboratory study to evaluate the use of emamectin benzoate in the control of sea lice in sea-ranched Atlantic salmon (Salmo salar L.)
BMC Pharmacology 285 p. 2-7
2007
Spatial transcription of CYP1A in fish liver
BMC Physiology 7 p. 12-12
2007
Gene-expression profiling in gill and liver of zebrafish exposed to produced water
International Journal of Environmental Analytical Chemistry 87 p. 195-210
2005
Evaluation of potential reference genes in real-time RT-PCR studies of Atlantic salmon
BMC Molecular Biology 6 p. 1-9
Poster
2019
Biological effects in Atlantic cod (Gadus morhua) and haddock (Melanogrammus aeglefinus) exposed to crude oil with and without UV radiation.
2018
The function of Cholecystokinin (CCK) on gut motility in the stomachless fish Ballan wrasse
2018
ALGAE TO FUTURE – From fundamental algae research to applied industrial practice
2016
Species identification of fish products using DNA barcoding and next-generation sequencing.
2015
Dietary high arachidonic acid level affects the DNA methylation pattern in zebrafish
2015
Insufficient Methionine and B-vitamin Levels in Zebrafish Feed Increases the Liver Lipid Accumulation and Affects Redox Regulation and One Carbon Metabolism in the Next Generation.
2014
Insufficient B-vitamin levels in the feed for zebrafish increases the lipid accumulation in the liver of the next generation.
2011
Transcriptional profiles provide evidence of low contribution by oil droplets to toxicity of oil dispersion in Atlantic cod (Gadus morhua) larvae.
2010
Effects of dispersed oil on GST transcription, growth and survival in cod larvae (Gadus morhua).
Kapitler og bøker
2014
Characteristics of the digestive functions in ballan wrasse fed dry and moist diets
p. 74-79
2014
Effects of feeding frequency on growth and gut health of ballan wrasse juveniles
p. 83-89
Populærvitenskapelige artikler
2019
Tarmfunksjon hos berggylte
Norsk Fiskeoppdrett 44 p. 50-53
2015
Utviklingsstadier i torsk basert på beindannelse
Norsk Fiskeoppdrett E1 p. 14-16
2015
Skjelettutvikling og beinmetabolisme i tidlige livsstadier hos torsk
Norsk Fiskeoppdrett 40 p. 34-35
Faglige foredrag
2019
Omics in marine food and feed safety research
2019
Multi-omics toxicological analysis of methylmercury neurotoxicity and the influence of selenium in wild type and OCTN1 knockout zebrafish
2018
Hjelpestoff påvirker akkumuleringen av sprøytemidler i sebrafisk - prosjekt 254807
2018
The Norwegian monitoring program for fish feed -Metals and minerals in feed and feed ingredients
2018
Profiling DNA methylation patterns of zebrafish liver associated with parental high dietary arachidonic
2018
Nivået av arakidonsyre påvirker genuttrykket og DNA metylering i neste generasjon
2017
Investigating the effect of high dietary arachidonic acid in zebrafish (Danio rerio) using high-throughput technologies
2016
High arachidonic acid level in the feed for zebrafish changes the metabolism and DNA methylation in both parents and offspring
2015
Changes in metabolic pathways and DNA methylation patterns in zebrafish fed high arachidonic acid levels
2014
Transkriptomanalyse av atlantisk torsk - mekanismer for rask vekst
2014
Exposure of first-feeding cod larvae to dispersed crude oil results in transcriptional and metabolomic responses similar to effects of food deprivation
2014
Functionality of the cleaner fish, ballan wrasse, intestine
2014
Exposure of first-feeding cod larvae to dispersed oil results in transcripional and metabolomic changes similar to effects of food deprivation.
2013
TRANSCRIPTOMIC ANALYSIS OF DEVELOPING ATLANTIC COD - UNDERSTANDING THE MECHANISMS UNDERLYING HIGH GROWTH
2013
Status coordinated action - LeppeProd
2010
Transcriptional effects of dispersed oil and water-soluble fractions of oil on glutathione S-transferases in Atlantic cod (Gadus morhua L.) larvae.
2010
1H-NMR metabolomics to study the toxic effects of dispersed oil and corresponding water-soluble fraction on Atlantic cod, Gadus morhua L.
2003
Analysis of IgD expression in Atlantic salmon
Annet tidsskriftbidrag
2018
The function of Cholecystokinin (CCK) on gut motility in the stomachless fish Ballan wrasse
Neurogastroenterology and Motility 30
Rapporter og avhandlinger
2019
Digestive physiology of the stomachless fish, ballan wrasse (Labrus bergylta)
2019
Program for overvåking av fiskefôr - Årsrapport for prøver innsamlet i 2018
2018
Program for overvåking av fiskefôr
2018
Investigating the metabolic, transcriptomic and DNA methylation signatures of high dietary arachidonic acid in zebrafish. Epigenetic and transcriptional effects in the next generation
2009
Design and application of a custommade cDNA microarray for the identification of toxological biomarkers in cod (Gadus morhua)
2004
Analyse av IgM- og IgD-genuttrykking i ulike vev hos atlantisk laks (Salmo salar L.)